According to the Australian Bureau of Statistics, 4 million Australians (1 in 6) currently have back problems, which is one of the most common forms of chronic disease affecting adults.
It is caused by a multitude of risk factors or medical conditions:
Muscle injury
Ligament injury
Bulging or ruptured discs
Arthritis
Poor posture
Sedentary lifestyle
Physical labour
Exercise
Obesity
Older age
Auto-immune disorders
Back pain is very common, impacting 1 in 6 Australians.
Generally, acute pain is short-term, resolving within days or weeks.
Acute low back pain is usually musculoskeletal, caused by a muscle strain or injury, ligament strain or problems with your spine or discs.
Common symptoms of acute low back pain include:
Sudden onset of pain that is new
Pain that is worse when standing or sitting
Stiffness in the lower back
Difficulty moving around
Muscle spasms or cramps
Numbness, pins and needles or weakness in your legs
If you experience persistent pain, it's essential to see a doctor or a neurologist for an accurate diagnosis and to rule out more serious causes of back pain.
Chronic pain in your back is when pain persists longer than 12 weeks. The symptoms of chronic back pain can be the same as acute back pain, they just last longer.
Chronic back pain significantly impacts your quality of life, making everyday activities and physical activity difficult or impossible to do. It can also lead to depression, anxiety and sleep disorders.
If you are experiencing chronic pain, make an appointment with one of our friendly back pain specialists at CURA to discuss your treatment options.
How is back pain diagnosed?
Patient assessment and history
The first step in diagnosing back pain is taking a patient's history. This includes learning about the nature, duration, and location of the person's pain, as well as their overall health and any previous episodes of back pain.
After that, a specialist will conduct a thorough exam to determine what is causing your pain, if you need further tests and what treatment options will be best for you.
X-rays, MRI and CT scans.
X-rays can show any compression fractures, misalignment of bones and vertebrae, or evidence of arthritis in your spine.
MRI and CT scans provide a more detailed look at your back and show soft tissue, disc, muscle, tendons, ligaments, spinal canal or nerve issues that may be causing your pain.
Specialised bone scans can be performed to show active areas of inflammation in your spine which could be potential targets for minimally invasive image-guided steroid injections.
Nerve studies/EMG
Nerve studies and EMG measure electrical impulses in your muscles and nerves to show how your body responds to nerve signals. These tests can be used to diagnose injury to the nerve and muscle. 
Why you should see a Back Pain Neurologist to help diagnose and relieve your back pain
Our neurologists will use your medical history, a thorough examination and sometimes other tests like X Rays, MRIs, CT scans or nerve studies to accurately diagnose and treat your back pain.
A neurologist is a medical doctor who has specialised training in diagnosing and treating disorders of the nervous system. 
Neurologists have expertise in diagnosing conditions and common causes of back pain, such as:
Herniated discs
Degenerative disc disease
Spinal stenosis
Spondylolisthesis
Osteoarthritis
Neuropathic pain
Radiculopathy
Muscle disorders
What treatments do our medical professional team
at CURA offer for your back pain?
Gentle Movement and physical therapy
Gentle movement and stretches are one of the best things you can do for your back. A simple stretching routine performed a few times a day can help reduce stiffness and improve the range of motion in your back. Gentle physical activities like walking, yoga, tai chi and swimming are highly effective and have the added benefit of helping you achieve a healthy weight. 
Medications
Depending on the severity of your pain our providers may prescribe medication to help ease your discomfort. The type of pain relief to treat pain is:
Simple analgesics such as paracetamol
Anti-inflammatory drugs such as ibuprofen
Stronger analgesics, such as opioid-based medications, can be prescribed but should not be for prolonged use.
Minimally invasive corticosteroid spinal injections
These steroid injections can help reduce inflammation and ease pain in the affected area. Minimally invasive corticosteroid spinal injections are generally only used when pain persists, despite other treatment options being used. We typically perform these under X-ray or CT guidance.
Which is the best treatment option for me?
For persistent pain a minimally invasive corticosteroid spinal
injection can relieve your symptoms.
The best treatment option for you will depend on the underlying cause of your back pain as well as the severity of your symptoms. Our team will work with you to develop a personalized treatment plan that meets your unique needs.
If you are experiencing back pain, contact our team at CURA today to schedule an appointment. We will work with you to find the best way to relieve your pain and restore function in your back.
What is the cost of back pain
treatments with CURA?
The consultation cost will vary depending on the service enquired, appointment duration, medicare availability and other factors. Please use this calculator to get an estimate of your cost on the day of your consultation.
Why CURA is the
number one choice
Our team of specialists have a wide range of experience and expertise in treating all types of back pain, from the most simple to the most complex. We are committed to providing you with the highest quality care possible and go above and beyond to make sure you receive it.
Meet our friendly experts
MBChB (Auckland) FRACP (Neurology)
CCINR (Neurology)
Dr Hugh Stephen Winters is a highly skilled interventional neurologist. He specialises in minimally invasive corticosteroid spinal injections for neck and lower back pain.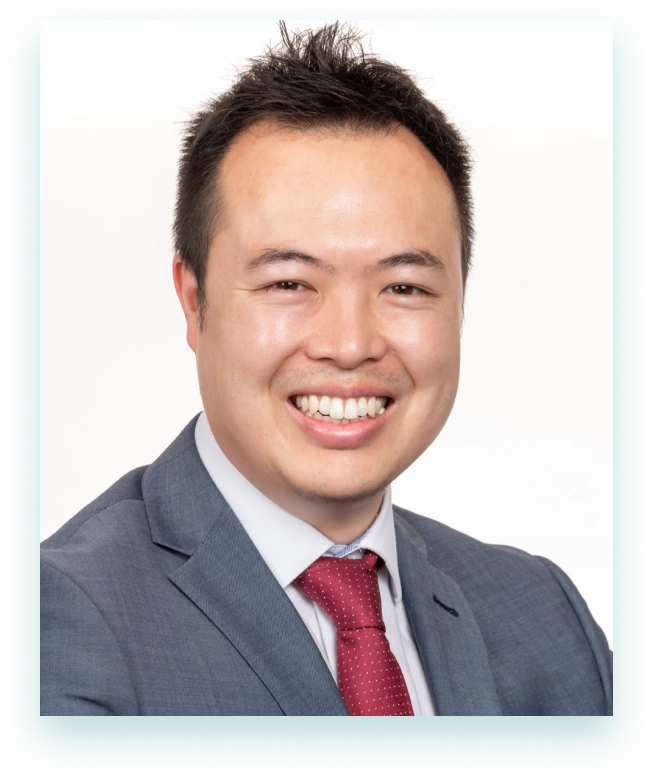 MBBS, FRACP (Neurology),
Head of Committee for CCINR
Dr Timothy Ang is a highly trained interventional neurologist skilled in diagnosing and treating intracranial hypertension, aneurysms, headaches, migraines and back pain.
For more information please read our most frequently asked questions:
In many cases, simple rest and pain relief can help relieve acute back pain. However, if your pain is severe or persists for more than a few weeks, you may need further investigation and treatment. GPs are well placed to provide this and refer you to a neurologist if required.
Sometimes back pain is simple to treat, other times it can be more complicated. Chronic back pain can be persistent and require many months, if not longer before your symptoms diminish.
In the short term, resting may be necessary to reduce the level of pain you have. Once your pain improves it will be necessary for you to return to normal (e.g walking) but with non-aggravating activities (e.g. heavy lifting or sitting for long periods). This includes lots of walking and reducing time spent sitting in poor unsupported seating positions. We encourage slowly increasing your activity once the pain begins to ease in order to prevent deconditioning of your core muscles.
How to schedule a consultation
Booking an appointment with us couldn't be easier. Simply book online and select your preferred date and time. Our friendly staff will then get back to you with a confirmation of your appointment. You can also call us at (02) 7906 8356 or reach us on live chat.
We are conveniently located at Drummoyne Specialist Centre, Level 3, Suite 3.2 – 135 Victoria Rd, Drummoyne NSW 2047.