What are brain aneurysms?
Both of our medical specialists Dr Winters and Dr Ang are experts when it comes to brain aneurysm treatment. Sydney residents can rest assured that they're in the safest hands at CURA Medical specialists.
So if you or a loved one is in need of Intracranial Aneurysm treatment, contact us today to find out more about the most advanced options available.
A brain aneurysm (also known as an intracranial aneurysm or cerebral aneurysm), is a deformity of an artery inside the brain, where a spot in the arterial wall in the brain bulges and fills with blood.
The area gets worn out from the constant flow of blood and bulges out, almost like a bubble and can grow to the size of a small berry. It can sometimes burst and results in bleeding in and around the brain and this is known as a subarachnoid haemorrhage.
A spot in the arterial wall in the brain bulges and fills
with blood and can grow to the size of a small berry.
What causes brain aneurysms?
Aneurysms are caused as a result of a weakened blood vessel wall in the brain, causing them to become thinner and weaker. It's still not fully clear what exactly causes them to form but it's believed that one or more of the following factors could cause them:
Breakdown of elastic tissue
Stress from blood flow through the artery
Tissue changes due to increased inflammation
What causes aneurysms to rupture?
It's often unclear exactly why an aneurysm ruptures but experts believe that the following could heighten your risk of bleeding:
High blood pressure
Heavy lifting or straining
Stress
Blood thinner medications
Illegal drugs
Intracranial aneurysm risk factors
There are many factors in both your medical history and lifestyle that also increase your odds of an aneurysm:
Smoking
Alcohol or drug abuse
High blood pressure
Injury or trauma to your head
Infection
Connective tissue disorders
Polycystic kidney disease
Cancer or tumours in your head and neck
Abnormalities at birth (tangled blood vessels in your brain)
Family history of brain aneurysms
MRIs and CT scans are used to diagnose aneurysms in the brain.
What are the symptoms of brain aneurysms?
A sudden, extreme headache is a symptom of a ruptured aneurysm.
Symptoms are usually very rare unless the aneurysm ruptures. However unruptured aneurysms do occasionally cause symptoms to show, especially if they're quite large or if they're pressing against tissues or nerves.
Unruptured
Symptoms of an unruptured aneurysm can include:
Numbness on the side of your face
Speech problems
Headaches
Loss of vision or double vision
Eye pain
Loss of balance
Difficulty concentrating
Short-term memory loss
Ruptured
It's imperative that you seek emergency medical care if you have any of these symptoms of an aneurysm rupture, which can include:
Sudden extreme headache (often felt to be the worst headache of your life)
Very stiff neck
Dizziness
Vomiting
Seizures
Loss of consciousness or collapse
Blurred or double vision
Light sensitivity
Drooping eyelid
Trouble speaking
Difficulty walking
How brain aneurysms are diagnosed
Unless an aneurysm ruptures, it can often be difficult to diagnose. However, they can be diagnosed using the following:
MRI/CT Scan
MRI and CT scans can be used to detect the location, size and shape of an aneurysm as well as to identify bleeding in your brain, due to a leaking or ruptured aneurysm.
Digital subtraction angiography (DSA)
A DSA is often a day procedure performed under mild sedation. A catheter is inserted into an artery in the groin and then threaded up to the brain. Once in the brain, a special dye is released and a computer then uses X-ray images to produce images and identify an aneurysm.
Cerebrospinal fluid (CSF) tests
In some instances, a severe headache can occur without obvious bleeding seen on CT or MRI scans, then a CSF test may be carried out using a lumbar puncture. The presence of blood in a CSF sample can indicate that there is bleeding in the brain from a possible aneurysm. In this situation, a patient will need to have a DSA.
Intracranial aneurysm treatment in Sydney
The treatment of intracranial aneurysms varies based on factors such as location and size, age and overall health, personal and family medical history and whether it has ruptured or is likely to. Small, unruptured aneurysms are often not immediately treated but instead are regularly monitored by your doctor to ensure there are no changes.
However, when treatment is necessary, it can be carried out in the following ways:
Surgical Clipping
During this procedure the blood flow to an aneurysm is cut off using a tiny metal clip, preventing further growth or rupture. It requires open brain surgery and is performed under general anaesthesia.
Endovascular Treatment/Coiling
Endovascular aneurysm repair is another form of brain aneurysm surgery, where a catheter is inserted into an artery in your groin and a soft platinum metallic coil is gently threaded into your aneurysm. The catheter then releases tiny wire coils to block the flow of blood.
Flow diverters
Similar to endovascular coiling, a catheter is inserted into an artery in your groin and then threaded to the site of the aneurysm. When the catheter is in place, the flow diverter is positioned into the artery and redirects blood away from the aneurysm, helping to prevent it from growing or rupturing.
How can I prevent intracranial aneurysms?
The best ways to prevent an aneurysm are to:
Quit smoking
Have a healthy, balanced diet
Keep blood pressure and cholesterol levels under control
Regular exercise
Avoid cocaine or other stimulant drugs
Avoid excessive alcohol consumption
How much does intracranial
aneurysm treatment cost in Sydney?
The consultation cost will vary depending on the service enquired, appointment duration, medicare availability and other factors. Please use this calculator to get an estimate of your cost on the day of your consultation.
Why Choose CURA Medical Specialists for your aneurysm treatment in Sydney?
The reasons why you should choose us for your aneurysm treatment in Sydney are:
Rapid access – We provide convenient and early access to specialised neurology care when you need it.
Interventional neurology – As interventional neurologists at a large tertiary institution, we have exclusive access to some of the best diagnostic testing in Sydney.
Extensive specialist network – We have excellent relationships with our colleagues in other areas of neurology/neurosurgery and access to an extensive specialist network, ensuring you'll get to see the best person to provide you with specialised care.
MBChB (Auckland) FRACP (Neurology)
CCINR (Neurology)
At Cura Medical Specialists, our team is led by Dr Hugh Stephen Winters, a fellow of the Royal Australasian College of Physicians with specialised training in neurology with four additional years of training in interventional neurology and is registered with the Conjoint Committee of Interventional Neuroradiology which recognises training and practice maintenance standards for Neurointervention.
As a specialist in interventional neurology, Dr Winters is highly trained in the use of minimally invasive, image-guided techniques to diagnose and treat diseases such as stroke, idiopathic intracranial hypertension, and aneurysms.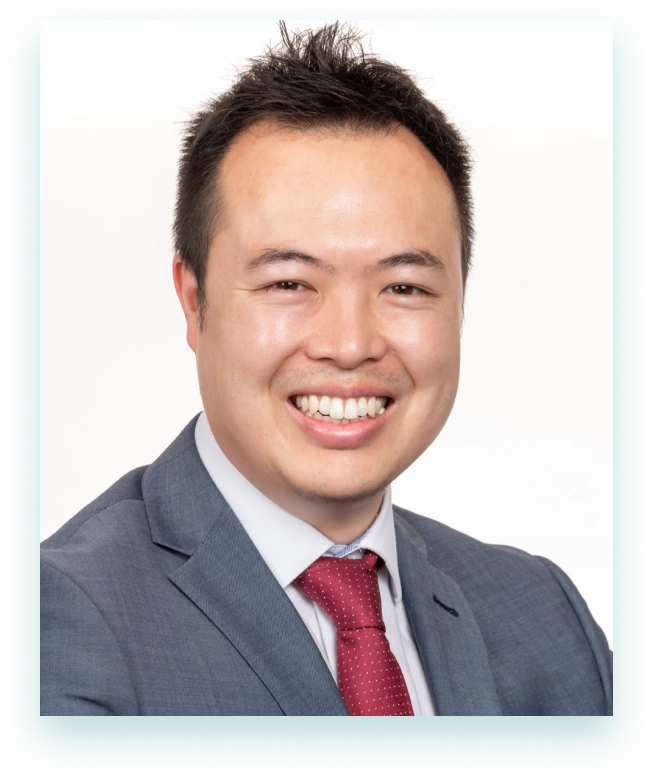 MBBS, FRACP (Neurology),
Head of Committee for CCINR
Dr Timothy Ang, a neurologist and interventionist at Royal Prince Alfred Hospital, Sydney also makes up our experienced team of neurologists. Dr Ang uses cutting-edge medical imaging tests to diagnose and treat neurovascular and neurological diseases and his interests include idiopathic intracranial hypertension, headache, migraine and aneurysms.
 He is also a fellow of the Royal Australasian College of Physicians and the Chair of the Conjoint Committee of Interventional Neuroradiology.
Below you can find our most frequently asked questions about brain aneurysms:
The chances are very high, especially if the surgery is performed before the aneurysm has ruptured. In general, the risk of a major complication from endovascular treatment is dependent on the manner in which the aneurysm is treated. Most endovascular treatments are associated with less than <5% of a major complication. Prior to any treatment, our practitioners will discuss the specific risks with you and your loved ones.
Yes, if an aneurysm hasn't ruptured then it can be monitored by performing regular brain scans at various intervals (6 – 12 months). However, surgery may be required if the aneurysm changes (e.g. in shape or size) and this can be associated with a greater risk of it rupturing.
Yes, a neurologist can treat an aneurysm. Both Dr Ang and Dr Winters as well as a handful of neurologists in Australia have undertaken additional highly specialised training to acquire expertise in the endovascular treatment of aneurysms. If open surgery is required, we work with trusted neurosurgeons to advise an appropriate treatment plan.
How to schedule a consultation
Booking an appointment with Cura Medical Specialists is easy. Simply book online and select your preferred date and time. Our friendly staff will then get back to you with a confirmation of your appointment. You can also call us at (02) 7906 8356 or reach us on live chat.
We are conveniently located at Drummoyne Specialist Centre, Level 3, Suite 3.2 – 135 Victoria Rd, Drummoyne NSW 2047.