What is carotid artery disease?
As we age, cholesterol, calcium and fatty substances build up in our arteries, creating plaque deposits that narrow the arteries and increase our risk of developing a heart attack or stroke. The diagnosis of this disease may come as a shock and have a patient feeling overwhelmed.
Our goal is to assist you in organising the best diagnostic testing, performing the highest quality clinical assessment and connecting you to the most up-to-date, evidence-based treatments. We offer the support and expertise to help you through what can be a difficult time. You can contact the team at CURA Medical Specialists now to see one of our qualified neurologists.
Carotid artery disease (also known as carotid artery stenosis or atherosclerosis), occurs when one or both carotid arteries become partially or completely blocked by atherosclerosis (i.e. cholesterol plaque). Such blockages can decrease the amount of blood flow to your brain and the presence of cholesterol plaque can cause the formation of clots, both of which increase your chances of a stroke.
Carotid arteries are major blood vessels in the neck that supply blood to the brain, face and neck. Carotid artery disease occurs when arteries that supply blood to the brain become blocked.
What are the risk factors?
There are several factors that can increase your chance of developing this condition over time. Some contribute to and compound other factors:
Smoking and using tobacco products
Obesity
Sedentary lifestyle
High blood pressure (hypertension)
High cholesterol
Diabetes or Insulin Resistance
Increasing Age
Family history of atherosclerosis (either coronary artery disease or carotid artery disease)
Sleep apnea
Symptoms of carotid artery disease
In the early stages of carotid artery disease, you may not experience any signs or symptoms. The condition can go unnoticed until it is severe enough to deprive your brain of blood or a clot forms on a part of the cholesterol plaque causing either a stroke or transient ischaemic attack (TIA). Signs may include:
Sudden loss of vision, blurred vision, or difficulty in seeing out of one or both eyes
Weakness, tingling, or numbness on one side of the face, one side of the body, or in one arm or leg
Sudden difficulty in walking, loss of balance, lack of coordination
Sudden dizziness, confusion or loss of balance
Difficulty speaking is called aphasia
Difficulty swallowing called dysphagia
Sudden headaches with unknown causes
may be a sign of carotid artery disease.
How is carotid artery disease diagnosed?
Your doctor may also use one of the following tests to diagnose carotid artery disease:
Carotid ultrasound (Standard or Doppler)
Magnetic resonance angiography (MRA)
Computerized tomography angiography (CTA)
Cerebral angiography (carotid angiogram)
How is carotid artery disease treated?
Carotid artery stenosis treatment will be based on your symptoms and diagnosis, and if you have had a stroke. If you receive a carotid artery disease diagnosis beforehand, your doctor will suggest you make preventive lifestyle changes. These include:
Quitting smoking if you smoke
Exercising regularly
Eating healthy food and eliminating ultra-processed foods
Managing any chronic conditions, such as heart disease and diabetes
Taking medications as prescribed
Treatment after an attack will be more invasive and a surgeon may need to surgically remove the blockage from your carotid artery or insert a carotid stent.
The decision as to whether stenting or surgery is required vs medical treatment is largely dependent on two factors;
You have had a recent stroke or TIA event.
Your artery is more than 69% blocked or stenosed.
Carotid Endarterectomy
Carotid endarterectomy is the most common technique used for severe carotid disease and is the preferred option for most neurologists and patients. During this surgery, incisions will be made in the front of your neck, the carotid artery will be opened and the blockage will be removed.
Carotid Artery Stenting
Carotid stenting is an alternative to carotid endarterectomy in select patients. Some patients have a plaque that cannot be accessible by standard surgical techniques. Studies have shown a decreased risk of complications if the patient has significant cardiac and respiratory co-morbidities. Carotid artery stenting has the added benefit of a faster recovery time.
Regular exercise and healthy eating can assist
in decreasing plaque build-up in the arteries.
How much does carotid artery treatment cost in Sydney?
The consultation cost will vary depending on the service enquired, appointment duration, medicare availability and other factors. Please use this calculator to get an estimate of your cost on the day of your consultation.
How CURA Medical Specialists can help
At CURA Medical Clinic we are led by two highly trained and skilled surgeons and are committed to offering you the best care. We strive to maintain excellent relationships with experts in all areas of neurology should we need to refer you to the appropriate experts.
MBChB (Auckland) FRACP (Neurology)
CCINR (Neurology)
Dr Winters is a specialist in general neurology, and interventional neurology and a fellow of the Royal Australasian college of physicians. Dr Winters is highly trained in the use of minimally invasive image-guided techniques to diagnose and treat neurological disorders.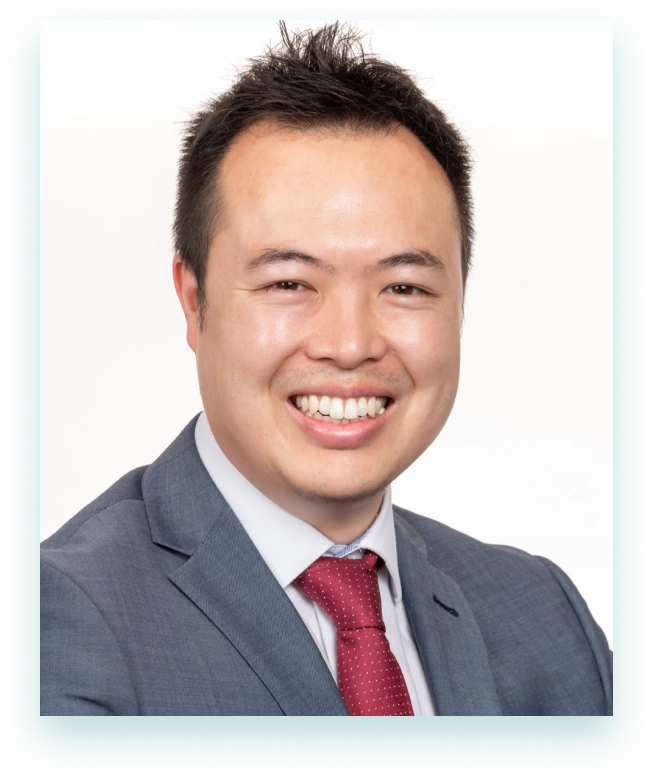 MBBS, FRACP (Neurology),
Head of Committee for CCINR
Dr Timothy Ang is a neurologist and interventionist at Royal Prince Alfred Hospital, Sydney. Dr Timothy uses cutting-edge medical imaging tests to diagnose and treat neurovascular and neurological diseases. 
Below you can find our most frequently asked questions about carotid artery disease:
How to book an appointment with us
Please book your appointment with CURA Medical Specialists using one of the following convenient options: