What are dural arteriovenous fistulas (DAVFs)?
We at CURA Medical Specialists are leading experts in the diagnosis and treatment of DAVFs. Whether you're suffering from low-risk or high-risk DAVFs, we will be able to provide you with a treatment plan for your individual needs to ensure you don't suffer from any further complications.
So if you'd like to find out more information about our dural arteriovenous fistula treatment in Sydney, or want to book an appointment for us to assess your symptoms, please don't hesitate to contact us today.
Dural arteriovenous fistulas (often referred to as DAVFs), are rare vascular malformations. They are abnormal connections that grow between veins and arteries found in the outer thick covering of the brain and spinal cord known as the dura mater, with direct drainage into the dural leaflets of the venous sinuses.
High-risk DAVFs may increase the risk
of stroke-like symptoms such as dizziness
Doctors classify DAVFs as either high or low risk:
Low-risk DAVF
The DAVFs that are considered low-risk cause drainage into the veins of the brain, keeping drainage within the dural sinuses with the largest veins within and around the brain.
High-risk DAVF
High-risk DAVFs increase venous pressure in the brain, or cortical veins. This increases the risk of haemorrhage and stroke-like symptoms.
What are the different types and classifications of DAVFs?
Doctors further classify DAVFs using either the Borden or the Cognard classification systems.
The Borden classification system describes lesions based on the location and the presence of cortical venous drainage.
In the Cognard classification system, DAVFs are divided into one of seven categories based on the location, the direction of flow, the presence of cortical venous drainage, and the presence of venous ectasia, which are swollen veins in the neck.
Unlike the Cognard classification system, the Borden classification system does not assess the direction of flow or the presence of venous ectasia.
MRI scans may be used to diagnose DAVFs
DAVFs can be caused when a blood clot or thrombosis has formed in one of the large veins surrounding the brain (dural sinus). As the clot heals a new pathway created by enlarged arteries is created and this is what is referred to as the fistula. These blood clots can form:
After a head injury
After an infection, especially ear infections
After brain surgery
In conjunction with a brain tumour
Increased blood clotting
Hereditary factors, such as the increased risk of developing vein thrombosis
What are the signs and symptoms
of dural arteriovenous fistulas?
Symptoms may not always be experienced, however, when they are experienced they may not always be due to an aggressive or benign DAVF. Signs and symptoms may include:
Wooshing or humming in the ears
Headaches
Stroke-like symptoms or seizures
Visual deterioration
Eye bulging
Swelling in the eye lining (conjunctiva)
Paralysis of eye movements in one direction
Cavernous sinus syndrome (a combination of the above symptoms)
Cases of progressive dementia or Parkinsons due to regional venous congestion within the brain.
Head Injuries may be the cause of DAVFs
What are the complications
associated with DAVFs?
Ringing in the ears (pulsatile tinnitus) may be a symptom of a DAVF
If dural arteriovenous fistulae remain untreated, many symptoms can continue to worsen. The most featured complication is the rupture of one of the congested veins or a stroke caused by venous congestion.
Risk Factors of DAVF?
Age is a risk factor as DAVFs seem to affect people mostly in their late-middle years from 50 to 60 years old. DAVFs may occur in younger age groups but these cases are uncommon.
Genetics are also a risk factor. People who are predisposed to developing blood clots in veins have an increased chance of developing DAVFs.
How our experts diagnose DAVF
A digital subtraction cerebral angiogram is most often used and considered to be the "gold standard" for a precise diagnosis. However, your initial tests may include one or more of the following:
What treatments for DAVF do our
medical team at CURA offer?
Minimally invasive endovascular embolisation and microsurgical resection are two conventional methods for DAVF treatment. One or a combination of the two methods can also be used.
Minimally Invasive Endovascular Embolisation
A catheter is passed through the groin into the arteries that lead to the brain. A liquid embolic agent, such as glue or Onyx is then injected into the affected arteries. This liquid helps to block the artery, reducing the flow of blood through the DAVF. This is the most common treatment and in most cases is enough to treat various types of DAVFs and prevent future risk of haemorrhage
Microsurgical Resection
Should an endovascular embolisation not be possible, a microsurgical resection is the next treatment option. During this procedure, a DAVF is isolated from the spinal cord or the brain using a microscope.
Jaw pain is one of the main complications of dural arteriovenous fistulas
Physiotherapy is recommended post-treatment
What is the recovery post-treatment?
Patients usually recover within the first 3 months after one of the above treatment options. Rehabilitation such as occupational therapy, physiotherapy and rehabilitation nursing is recommended for post-treatment.
How much does it cost to diagnose
and treat a DAVF in Sydney?
The consultation cost will vary depending on the service enquired, appointment duration, medicare availability and other factors. Please use this calculator to get an estimate of your cost on the day of your consultation.
CURA Medical Specialists are the go-to experts in Sydney for DAVF treatment
Our team is led by Dr Winters and Dr Ang. Both are staff specialist neurologists at Royal Prince Alfred Hospital and are experts in stroke, TIA, and related disorders.
MBChB (Auckland) FRACP (Neurology)
CCINR (Neurology)
Dr Hugh Stephen Winters is highly trained in minimally invasive, image-guided techniques to diagnose and treat diseases such as stroke, idiopathic intracranial hypertension, and aneurysms. 
He has trained in neurology with four additional years in interventional neurology, is a specialist in general neurology, and a fellow of the Royal Australasian College of Physicians.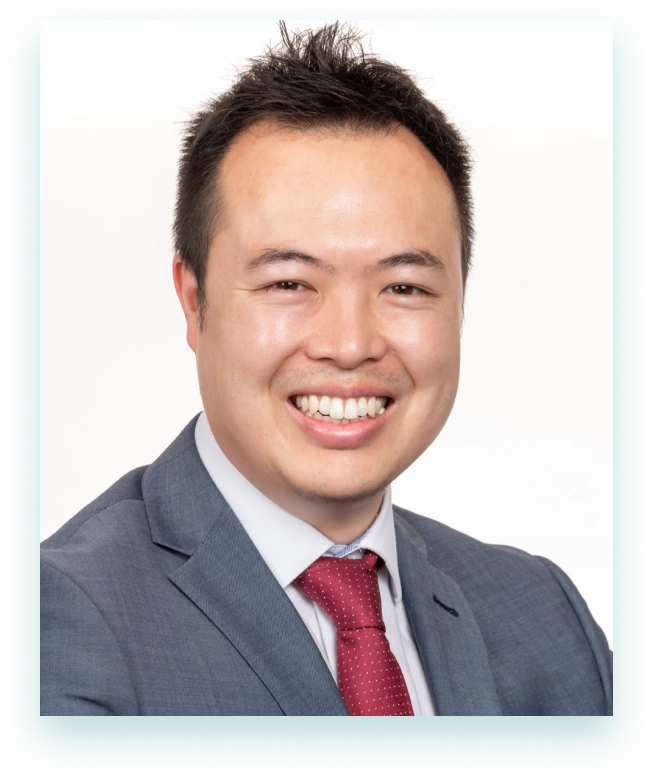 MBBS, FRACP (Neurology),
Head of Committee for CCINR
Dr Timothy Ang is a neurologist and interventionist at Royal Prince Alfred Hospital, Sydney. Dr Ang uses cutting-edge medical imaging tests to diagnose and treat neurovascular and neurological diseases and his interests include idiopathic intracranial hypertension, headache, migraine and aneurysms.
More Dural Arteriovenous Fistula questions are answered below:
How to book an appointment with us
Please book your appointment with CURA Medical Specialists using one of the following convenient options: